A well kept secret, the "Wallys Izis" is the first car entirely built in Tunisia. For 18 months Zied Guiga was secretly conceiving and building in a workshop at La Marsa, north of Tunis, the prototype of what has already become a success story.
Inspired from Chrysler's Jeep "Willys", the car was recently shown at the Paris auto show (Salon Mondial de l'Automobile) where it has attracted considerable attention from both visitors and specialists.
With the exception of the engine, manufactured by Peugeot, the car was not only made in Tunisia, but used Tunisian made car parts (cables, body, joints, chassis, and mechanical parts). The manpower behind its building is also 100% Tunisian.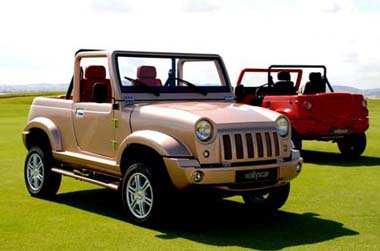 The "Wallys Izis" is a 3,25 m long, plastic panelled car with a 75 horse power Peugeot 1, 4 litre petrol engine. The engine is Euro 4 compliant and has a NCAP rating. It is ideal for off road leisure activities and boasts a 39 degree angle in climbing mode. Moreover, the car's steel chassis has a 14 year anti- corrosion guarantee and its plastic body a lifetime guarantee. An electric version is available with a 90 km range.
The car's sales manager for Europe is Rene Bosch, the inventor of the Dallas in the 80's and a friend of Zied Guiga's father. Incidentally it is a meeting with Rene Bosch that will trigger Zied's urge to design and build the car.
The car comes at a price of 10,000 Euros (about 18,000 dinars) and its inventor hopes that the car will meet with similar enthusiasm from the Tunisian public during the forthcoming Tunis car show, next June, when a four door version of the off-roader will be presented to the public.
[Source: Tunisia Online News]