Tunisiana's GPS Weenee Brings GPS To Tunisia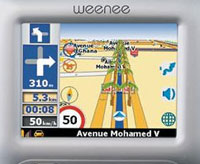 Just a couple of days ago I was wondering when GPS would finally make it to Tunisia, and to my great surprise today, by accident, I came across a new website launched by Tunisia's first private mobile operator Tunisiana publicizing a new product they're launching called GPS Weenee. (Weenee in Arabic means: Where am I? or Where is it?)
The product should be currently available at Tunisiana's service centers in the Grand Tunis area: Les Jardins du Lac, La Marsa (Zephyr), Ariana, Medina, Tunis-Carthage Airport.
The details of the service are as follows:
– Coverage: The Grand Tunis area and inter-urban Tunisia for the time being.
– Vocal and symbolic guidance
– 2D and 3D Maps
– Multilingual: Tunisian accent, Arabic, German, English, French, Spanish, Italian and Portuguese
– Search for interest points in the proximity, sorted by distance
– Search for addresses in the Grand Tunis area
– Automatic route recalculation
– Optimised route calculation (time/distance)
– Possibility to save favorites and last addresses
– Alerts when speed limit is exceeded
– Positions for hotels, restaurants, fuel stations, …etc.
I've found no information about the price on the website, so I guess I'll have to pass by one of the service centers to check that out. Hopefully them not putting the price doesn't mean it's really expensive.
I can't understand why I had to find out about this by coincidence, where is the communication a product like this deserves? where are the ad campaigns? where are the billboards?
Personally, I find this very very interesting, a great move by Tunisiana, a product everyone needs and that simply sells itself, something I'll totally go for if the price is right.
Update: The information I got about the price from a Tunisiana insider is a one-time 900 DT for the device. Very expensive and unpractical, I think.
A friend of mine rightfully joked after hearing the price: You could spend your whole life getting lost in Tunis and taking taxis to wherever you want to go and it still wouldn't amount to 900 DT.