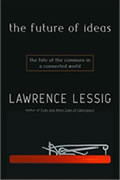 Lawrence Lessig and his publisher Random House have released another one of his books "The Future of Ideas" under a Creative Commons Attribution-Noncommercial license.
In The Future of Ideas, Lawrence Lessig explains how the Internet revolution has produced a counterrevolution of devastating power and effect and argues that as the Internet faces the challenges of intellectual property laws, it should not become so controlled that it discourages innovation and creativity in the digital world.
He explains the historical context of the Internet and its relationship to the "commons" and argues that, for the Internet to evolve and be an open environment, there must be a balance between intellectual property and the public domain.
You can download the book for free here: The Future of Ideas.
You can find his other books and where to download them here: Lessig.org