Blogger Does Arabic, Hebrew And Persian
Blogger is finally available in Arabic, and two other Middle Eastern right-to-left languages: Hebrew and Persian.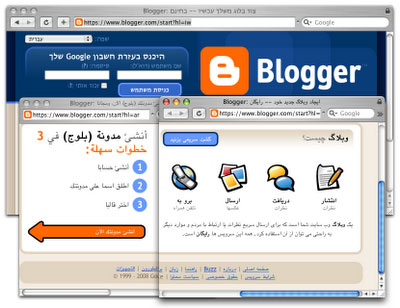 Besides localizing the Blogger interface into these three languages, they have added right-to-left templates and new toolbar buttons for bi-directional text editing in the post editor.
I think it's great that they've done this, it will make a lot of people's lives easier. I know many people who've been using Blogger to publish their blogs in several languages like Arabic, Farsi, Urdu and Hebrew for some time now.
Some of these people who have a little technical know-how were able to play around with their blog designs and templates to flip them around into something nice and presentable, but the result with others wasn't such a nice view, even though they eventually got to get their ideas across, which is what counts most I guess.
Anyway, very welcomed move from Google's Blogger team. May blogs from this corner of the world flourish even more.
[More: Blogger Buzz, Mashable]