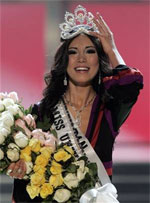 Riyo Mori, a 20-year-old dancer from a village near Mount Fuji in Japan, who hopes to someday open an international dance school, was crowned Miss Universe 2007 last night.
Mori, the 56th winner of the title, was given her $250,000 diamond-and-pearl crown by last year's winner, Zuleyka Rivera of Puerto Rico, watched by a live audience of 10,000 and some 600 million television viewers worldwide.
Mori, the second Japanese woman to win the Miss Universe title will spend her year-long reign traveling the world to speak out on humanitarian issues like poverty and disease.
Under pageant rules, women crowned Miss Universe become advocates for AIDS/HIV research and education.
The only other time Japan had won the pageant was in 1959, when Akiko Kojima became the first Miss Universe from Asia.