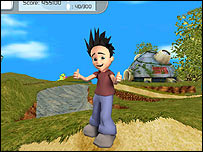 The BBC, through CBBC, the channel for 7-12 year olds, will be launching an online virtual world for children, quite similar to Second Life.
CBBC World, as it will be called, will offer youngsters a safe environment to explore, and provide them with different zones offering CBBC content.
As in Second Life, children will be able to create virtual versions of themselves on-screen, called avatars. Their characters can then move around CBBC World.
They will also be able to take part in games, animations, videos and music, create their own content and send their work to other CBBC World users or upload it to a gallery, where the best will be used on the CBBC TV channel.
It is expected to go live in the summer with a full launch in the autumn to coincide with the CBBC relaunch.
I'm not quite sure how successful this project will be, but it could be good to have a children's alternative to Second Life, still there has to be a lot of work to ensure the safety of the children using it.
[Source: BBC News]