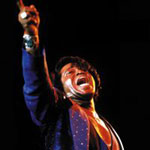 James Brown, the "Godfather of Soul", the legendary R&B artist, the singer and songwriter who defined funk and inspired rap, died yesterday at Atlanta's Emory Crawford Long Hospital of congestive heart failure at the age of 73.
Brown's last words were to his manager Charles Bobbit, and they were: "I'm going away tonight."
James Brown is one of the few music legends who will live on forever through their art and through the way they affected and revolutionized the music scene.
His influence was broad and deep, and so much of the music we hear nowadays has it's roots in Brown's music.
Brown began his professional music career in 1953 and skyrocketed to fame in the late 1950s and early 1960s on the strength of his thrilling live performances and a string of smash hits. In spite of various personal problems and setbacks, he continued to score hits in every decade through the 1980s.
I grew up listening to James Brown's hits from "Sex Machine" to "Papa's Got a Brand New Bag" to "I Got You (I Feel Good)" and countless other songs; My dad is very big fan of Brown's music, and so his songs played a big role in my personal musical education and defining my taste of music.
Rest in peace James Brown, for you have achieved immortality through your music…