Win Natacha Atlas' New Album 'Mish Maoul'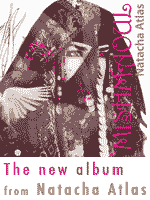 Belgian-born Middle Eastern singer Natacha Atlas has just released her latest album, by the title "Mish Maoul". The album is a blend of western beats and middle eastern forms and influences, mainly sung in Arabic and English.
I was introduced to Natacha's music a few years ago, 1999 to be precise, with her hit song "Mon Amie La Rose", from her album "Gedida".
This album experiments with the fusion of different musical styles from west and east, and is quite an interesting listen.
Through Subzero Blue, Natacha's record label Mantra Recordings/Beggars Group will be offering 10 copies of her new album for grabs.
All you have to do to have a chance at winning one of the CDs is to jump by the album site "Mish Maoul", listen to some of her songs, identify 3 different musical instruments that are used on the album, and email your reply to marketing@beggars.com. And make sure you don't forget to say that you're coming from Subzero Blue in your email.
Good luck…