Mr. Miyagi, Pat Morita, Dies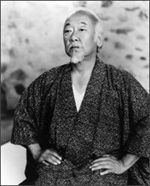 Actor Pat Morita, best known for helping teach a boy martial-arts mastery through household chores as the wise Mr. Miyagi in hit movie "The Karate Kid," has died. He was 73.
There were conflicting reports about the cause of death. His daughter Aly Morita said he died Thursday of heart failure at a Las Vegas hospital; longtime manager Arnold Soloway said the actor died of kidney failure at a hospital while awaiting a transplant.
His role in the 1984 film defined his career. As Kesuke Miyagi, the mentor to Ralph Macchio's "Daniel-san," he taught karate while trying to catch flies with chopsticks and offering such advice as "wax on, wax off" to help Daniel improve his karate hand movements while doing his chores.
Karate Kid was one of my favourite movies growing up; I loved it and watched it over and over again. Mr. Miyagi was such an important character in the movie and to me too. Pat Morita brought so much charisma to the character and was so loveable in the role.
It makes me sad to hear about his death. It somehow feels like I lost an old friend.
[Source: ABC News]