Jordan's Vigil: "No For Terror"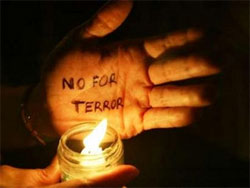 Sixty Jordanians held a vigil outside the British Embassy in Jordan's capital, Amman, to protest at the London terror attacks and express solidarity with the British people.
The one-hour vigil was organised by two Jordanians, Mohammed al-Masri and Faris Breizat, who invited friends and others by email and mobile messages to join the candlelit silent protest.
"We are here to say loudly 'no' to terrorism and to tell the world that Arabs and Jordanians are not terrorists and they condemn such acts," said Nidal Mansoor, head of local non-governmental organisation The Center to Protect Journalists.
You can check out more photos here.
[Source: Scotsman]
[Via: Murdoc Online, Natasha]