Canadian Natalie Glebova is Miss Universe 2005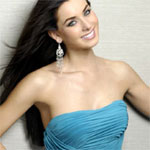 Miss Canada, Natalie Glebova, was crowned Miss Universe in the 54th annual pageant held in the Thai capital of Bangkok.
The brunette from Toronto was chosen over Miss Puerto Rico Cynthia Olavarria.
Natalie Glebova is a model and motivational speaker to grade school and high school students.
When she was asked what she considered the biggest challenge of her life. She said it was remaining optimistic.
"I always try to maintain a positive outlook on life," she said.
Well, she deserves to win and I totally agree with her that remaining optimistic is the most important thing in a person's life. It's not easy to do, but very important to be able to keep going.