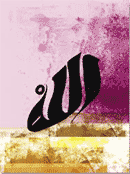 While surfing around the web, I came across the site Visual Dhikr, which is for an art project launched by two UK Muslim artists Ruh Al-'Alam and Abu Taha.
As muslims we are always looking back at our history and praising the achievments of our forbearers. Their amazing artistic and architetcural achievments that are a source of pride, as well as a valuable contributor to our unique cultural heritage, are becoming a thing of the past.
Visual Dhikr aims to help nurture the revival of Islamic Art in a contemporary fashion that compliments our lives, in our home, in the modern age.
I think this is so great.
I love the artworks that they've put on the site and think that it's great they merge Islamic and contemporary art so beautifully.
[Site: Visual Dhikr]