Katty ko, Miss Digital World 2004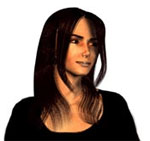 Katty ko, designed by Flavio Parra from Chile has been voted Miss Digital World 2004 by the online jury at the Miss Digital World contest.
According to them, Katty ko is the contemporary icon of virtual beauty.
From the models that were submitted for this contest, I too agree that Katty ko is the best.
I also liked Judith Pixelle by another designer from Chile.
It seems South Americans rock in 3D modelling of humans.