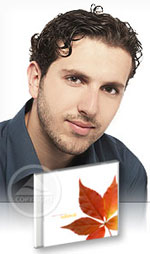 A new nasheed artist by the name of Mesut Kurtis has launched his debut album called "Salawat".
This album was produced by Sami Yusuf and a special track also features him.
This amazing album also contains the famous Burda by Imam Al-Busari. The songs on this album beautifully and seamlessly blend lyrics in Arabic, Turkish and English.
Mesut Kurtis was born in 1981 in Macedonia to parents of Turkish origins. He comes from a very religious and scholarly family. His great grandfather was a well known scholar at the time of the Ottoman Empire. He is fluent in 5 languages. He has recently finished his Islamic Law course at the European Islamic Institute in Wales.
For a sample compilation from the "Salawat" album, click here.
For more information, check out the Awakening website.