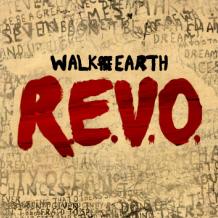 Couple of days ago, I got home to find that my awesome wife had gone on and bought me Walk Off The Earth's new album R.E.V.O, which was just released this week.
For those of you who don't know Walk Off The Earth, they're a very talented Canadian band that formed in 2006 in Burlington, Ontario, and has gained success around the world by making low-budget music videos of covers and originals. Their 5-people-playing-one-guitar interpretation of Gotye's "Somebody That I Used To Know" exploded on Youtube garnering well over 35 million views in under 2 weeks.
I've been hooked on the videos they've been posting on their YouTube channel for quite a while, and listening to some of their songs on Grooveshark; and both their original songs as well as their covers are just great music. I actually like their covers more than the versions by their original performers in most cases (e.g. Taylor Swift's "I Knew You Were Trouble").
The album has a combination of songs that Walk Off The Earth have recorded over the past while, some of which would be familiar to fans who follow their YouTube channel, and ones that are new tracks. It also includes their acoustic, 5-people-playing-one-guitar, cover of "Somebody That I Used To Know" by Gotye.
I've been listening to the album the past couple of days, and I totally recommend checking them and the album out. Some of my favorite tracks off the album are: Red Hands, Gang of Rhythm, Speeches, Summer Vibe, and No Ulterior Motives.
They're another great example of an indie music band or artist that used YouTube to get their music out there, build a huge following, and then through that get a record deal to be able to further their dream of making more music at a more professional level.
It used to be gigs at clubs and auditions and such that would get the word out about new bands and artists, and even though that still happens obviously, there's more and more reliance on the internet and specifically sites like YouTube and SoundCloud for the build-up phase.
And I think that's the going to become the norm for all new music acts, where record labels only sign up bands and artists who have garnered enough attention and interest from people to take it to the next level.
It also gives some power to the bands and artists, where they have a bit more choice as to whether they want to go with a record label or not, and puts them in a stronger position during deal negotiations as they already have a fanbase and exposure to build upon.
Yet another way in which the music industry is being changed because of the internet.
Anyway, long story short, make sure you check out Walk Off The Earth and their music; and let me know what you think.