Of all the animated series I watched as a kid back in the 80′s, ThunderCats was probably the one I enjoyed the most, and that popped up first in my mind whenever I took a little trip down memory lane throughout the years.
I'm not sure what it was exactly that fascinated me about it all and what got me so hooked on it and attached to the different characters and storyline; but it's safe to say that it stuck to me, and still is to this day in some way; in fact, one of my favorite t-shirts that I wear whenever I can is a ThunderCats shirt I bought a few years back from an HMV store.
Enough about the past though, let's return to the present; the ThunderCats are back!
Yes, Warner Bros. Animation have rebooted the series with animation provided by the Japanese Studio 4°C, and it's currently airing on the Cartoon Network every Friday night.
I realized this after the series had already started, and only got to catch up with all the 7 episodes that have been aired so far this past weekend. And it was really fun watching it; the little boy in me just loved it!
Initially I was afraid they'd mess it all up and ruin it for me and other fans, but I have to say they've done quite a good job with it. The only thing that irked me a bit is the new look the different characters got, I like their looks from the original series much better; in this version they all have this Japanese anime elf-like look, which is annoying and doesn't fit some of the characters at all (especially Lion-O and Cheetara).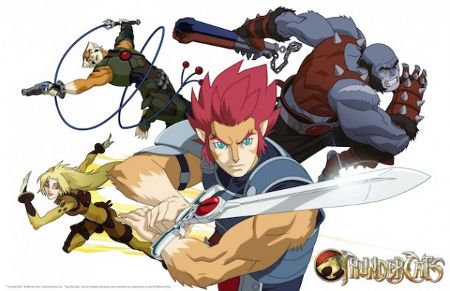 Other than that though, it's really good and fun; they took the story back and gave the characters more history and personality, developing the story slightly differently than the original, but still in an interesting way, where instead of the Cats being stranded on a new planet as in the original, they actually rule Third Earth and are seen by some as the powerful oppressors, who are attacked and their city of Thundera targeted and destroyed.
The story at this point follows Lion-O as he takes on the role of King after the passing of his father, and as he goes on a quest to find the Book of Omens.
Another great thing about this new 2011 series is that I got to introduce my 5 year old son Adam to it, and he just loved it too. In fact, as I was writing this he saw the image I included above and started asking if we could watch some other episodes of ThunderCats today.
At the end of this post, all I can say is that I really enjoyed watching the new series and will be making sure to watch the new episodes every week.
As for you dear reader, if you were a fan of ThunderCats in the 80′s, then you should definitely check this out; if you weren't, well this is your chance to redeem yourself and discover a great series.