Michael Moore Plans Free Net-Only Film Premiere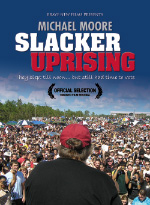 With the US Election only weeks away now, Michael Moore has chosen the right time to release his new documentary titled "Slacker Uprising".
His plans are to premiere it exclusively on the internet for free, on September 23rd, hosted on Blip.TV.
This will be followed by a DVD which will be available through Amazon.com and Netflix on October 7th.
The movie documents Moore's 62-city tour through swing states during the 2004 U.S. presidential election to rally young voters.
Moore hopes "Slacker Uprising" will help spur young people to vote this November. After more than 20 million 18- to 29-year-olds cast ballots in 2004 (an 11 percent increase from 2000), he's hoping even greater numbers of "slackers" vote this year.
Moore said "Slacker Uprising" cost about $2 million to make and that he will end up paying about $1 million out of his pocket. Neither he nor the distributor, Brave New Films, plans to profit from the release.
To receive the download, people can sign up at SlackerUprising.com.
The trailer can be viewed on YouTube here: Slacker Uprising Trailer.