Suzuki Crosscage Hydrogen Powered Motorcycle
Suzuki announced its Crosscage motorcycle concept at Tokyo Motor Show last November, and have recently announced that they're putting it into production.
But, other than it's really cool design, what's most important about this bike is that it is going to be hydrogen powered, read extra clean for the environment.
The bike developed in conjuction with British Intelligent Energy is powered by a lightweight air-cooled fuel-cell system and a high-performance secondary lithium-ion battery.
What can I say but awesome design and bravo for the use of clean energy to run this beauty. I hope every other manufacturer follows suit.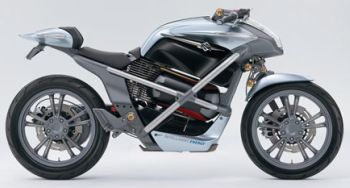 [Via: Tuvie]