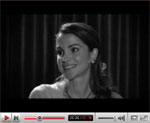 Queen Rania of Jordan, has launched a YouTube channel in an attempt to reach out to the west and break down Western stereotypes about the Arab world.
Queen Rania, an outspoken advocate of women's rights and education reform in the Arab world, aims to start a conversation with people in the West through this YouTube channel to try and break down negative stereotypes about Arabs and Muslims that have become especially widespread over the past years.
The conversation will go until August 12, which is International Youth Day.
The introductory video, that has been watched over 80,000 times since being uploaded last Sunday, can be viewed here.
"In a world where it's so easy to connect to one another, we still remain very much disconnected. There's a whole world of wonder out there that we cannot appreciate with stereotypes," she says. "I want people to know the real Arab world – to see it unedited, unscripted and unfiltered – to see the personal side of my region – to know the places and faces and rituals and culture that shape the part of the world I call home."
I think it's a great and brave initiative from Queen Rania, who deserves nothing but the utmost respect for her efforts, and all the time and energy she has invested in some very important issues for Jordan and the Arab world.
[More: AquaCool, The Black Iris, ReadWriteWeb]