Samsung G800 Photo Phone In Tunisia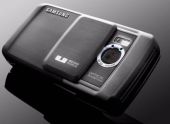 Tunisia is one of the countries with the highest mobile penetration in the region at 78% in 2007 and expected to reach as high as 108% by 2010.
But not only do most Tunisians have mobile phones, they also have the mobile phone craze, following every new model, keeping up with all the new features and little cool additions.
Obviously, one of the areas, most mobile phone makers are making strides in and focusing on, are the photo capabilities of their mobile phones, or should we call them photo phones now.
One such case is the Samsung G800 which was recently released in Tunisia, and which focuses on its strong point as a photo phone. This phone comes with a 5 Mega pixel camera, a 1/3.2-inch CMOS-matrix with x3 optical zoom, a Xenon flash, facial recognition, wide dynamic range technology and the possibilities to take different formats of photos.
The phone also supports video recording and montage and comes with blog capabilities that will enable direct video blogging.
The TFT display utilized by the G800 comes with the resolution of 240×320-pixels, measures 2.4 inches from corner to corner, and shows up to 262 K colors.
Another important feature in new mobile phones and that exists on this phone as well is an audio player that supports the most common formats: AAC, AAC+, eAAC, MP3 and WMA. Files can be uploaded onto the handset both directly over Bluetooth and through the synch application or Windows Media Player.
Another related feature is the integrated FM radio tuner.
The phone is a slider, with the dimensions 103x51x17mm, and weighing around 134 grams.
Overall, it sounds like a pretty nice offering from Samsung that could come in very handy for people who want a good phone and a good camera rolled into one; especially enticing for photo and video bloggers.