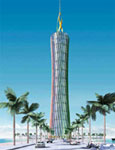 More and more extravagant and innovative buildings and towers are sprouting in the Middle Eastern skyline, especially in places like the UAE, Bahrain, Qatar and Saudi Arabia. The latest proposed tower project is the state-of-the-art Burj Al-Taqa ("Energy Tower").
Designed by German architect Eckhard Gerber and cutting a 322 meter high silhouette, this commercial high rise envisioned for builds in Riyadh, Dubai and Bahrain, will produce zero emissions and use sun, wind and water to create all of its own energy.
The 68-story structure will use natural air conditioning based on ancient Persian architectural feature consisting of wind towers that draw wind in and down to be pre-cooled with sea-water and run through the building for ventilation and air-conditioning purposes.
The tower's fa