Musiqat – Traditional and Neo-Traditional Music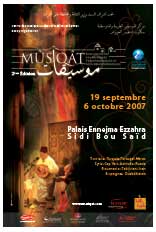 Other than the abundance of great food and sweets, Ramadan in Tunisia is also marked by the great music festivals and cultural events that take place after the breaking of fast.
One of these events is Musiqat, a mix of traditional and neo-traditional music by musicians and groups from around the world.
This year's edition will be taking place from September 19th to October 6th at the Ennejma Ezzahra Palace in Sidi Bou Said.
The event programme is as follows:
19/09 : Zohra Lajnaf : Tunisia : Traditional songs from Gafsa
20/09 : Halil Karaduman : Turkey : Instrumental Turkish Music
21/09 : M