Happy First Birthday Adam
Exactly one year ago, on a hot Tunisian summer day like this one, August 28th, I witnessed the amazing miracle of life when our beautiful baby boy "Adam" was born into this world.
It was an overwhelming breath-taking moment for me, one that I will never forget for as long as I live, the rush of mixed feelings that went through me at the moment of my child's birth is something I simply can't put into words, and the changes inside of me that resulted from those few seconds are ones that will be with me for eternity.
I became a father, my life changed forever, the center of the universe shifted in a split second, and it all started to rotate around this little baby boy; I promised myself I'd do everything to be the best father in the world to this child.
Now a year has passed, a great magnificent beautiful year, a year spent watching our baby grow into a smart, naughty, little handsome boy; who can with a simple smile or laugh turn my whole life upside down, wipe away any sort of stress or unease the world throws at me; and who can fill my heart with happiness and joy at the smallest little action or achievement he does.
I can't even begin to describe the feelings and love I have for this child, I could easily claim that I worship him and I wouldn't be overstating things.
Happy Birthday Adam… Congratulations on your first birthday, I can't wait for the days, months and years ahead of us and all the fun and happiness that await us in them.
I can't but thank Eman, my beautiful beloved wife, who is also a great and amazing mother, for every single little thing and for being all that she is. My life has been blessed since you walked into it my dearest.
Finally, here's a photo of the birthday boy with some of his gifts: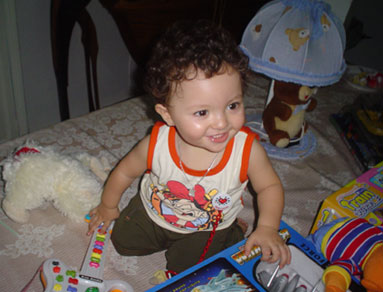 We didn't plan anything big for his birthday really, just the usual small stuff; but his grandparents obviously had different plans, and it turned out they invited all my aunts, uncles and cousins and turned it into a party at their place.