Google Earth Looks Towards The Sky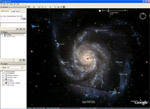 Google has gone ahead and launched Sky in Google Earth, a new functionality that will be adding space imagery to Google Earth's extensive maps and imagery of planet Earth.
Google's announcement says that with this functionality "You can now explore the universe from the comfort of your chair. Zoom in to distant galaxies hundreds of millions of light years away, explore the constellations, see the planets in motion, witness a supernova explosion; it's like having a giant, virtual telescope at your command — your own personal planetarium!"
According to TechCrunch, the space imagery used in this new functionality includes over one million photographs from various sources, including the Sloan Digital Sky Survey, the Palomar Observatory at the California Institute of Technology and the Hubble Telescope.
This isn't actually the first time Google looks to space, it already previously launched Google Moon, including Nasa imagery of the moon, and Google Mars with scientific maps of the red planet.
You have to download the latest version Google Earth to use this new functionality. I'm doing it right now.