Burj Dubai World's Tallest Building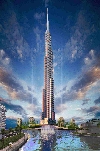 Burj Dubai, the supertall tower designed by Skidmore, Owings and Merrill for developer Emaar being built in Dubai, is now the tallest building in the world.
A year and a half ahead of completion and already 512m tall, the skyscraper known as Burj Dubai (Dubai Tower) has become the world's tallest building, according to its developers.
It is is now taller than Taipei 101 in Taiwan, which officially held the record for being the tallest tower since 2004.
The final height of the Burj is a closely guarded secret. Emaar, the state-owned development company, is only willing to say that construction work will stop sometime after the tower reaches 700m.
Once finished it will have an estimated 160 floors, lifts whizzing up at speeds of 40 miles per hour, and a total of 344,000 square meters of floor-space, housing residential, commercial and retail property.
The $1bn skyscraper is being constructed in the heart of central Dubai, a 500-acre development project worth $20bn.
Eventual completion of the tower is set for December 2008.