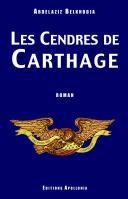 Last weekend I finished reading "Les Cendres De Carthage" (The Ashes Of Carthage) by Tunisian writer Abdelaziz Belkhodja.
This is the second book I've read by him, the first being "Le Retour De L'Eléphant" (The Return Of The Elephant) that I read a few years ago.
This work of fiction revolves around an archaeological dig in the ancient city of Carthage, close to the capital of Tunisia, where the great ancient library of Carthage is discovered, then taking an unexpected twist into a thriller putting politicians and intelligence services from Tunisia and the United States face to face.
It's style is a bit reminiscant of "The Da Vinci Code" in how the main character keeps digging up historic facts in his investigation to find the truth, but well this book was written well before "The Da Vinci Code" was ever released.
It's also pretty obvious the writer has a fascination with Carthage and the history of Tunisia as both books I've read by him up to now build upon that in their storylines.
I liked this book, it's an interesting and light read, plus the fact that it's by a Tunisian and has Tunisia as a character gives it a little extra taste for me.