Microsoft Surface Computing

Today, Microsoft CEO Steve Ballmer will be taking the wraps off "Milan", a project five years in the making, and the first of what the company is calling a "surface computer".
The Microsoft Surface tabletop PC, for which the company has created both the hardware and software, turns an ordinary tabletop into a dynamic surface that provides interaction with all forms of digital content through natural gestures, touch and physical objects.
The surface computer will be able to recognize physical objects and allow hands-on, direct control of content such as photos, music and maps.
Although these computers will be available later this year, they'll be unaffordable for most people; The expensive components required to allow multiple users to touch the device simultaneously give it a price tag approaching $10,000.
So for the time being, the new product is aimed directly at hotels, retail establishments, restaurants and public entertainment venues.
The demos I saw online of this just blew my mind, and the possibilities for applications that can run on this type of computers are really interesting and cool. I hope that it'll become affordable for domestic use in the near future, because I for one would love to have one sitting in my living room.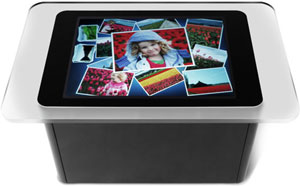 For more: