Muhammad Yunus' Nobel Peace Prize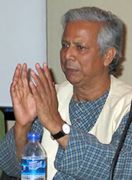 Economist Muhammad Yunus accepted the Nobel Peace Prize yesterday for his breakthrough program to lift the poor through tiny loans, saying he hoped the award would inspire "bold initiatives" to eradicate a problem at the root of terrorism.
Yunus shared the award with his Grameen Bank, which for more than two decades has helped impoverished people start businesses by providing small, usually unsecured loans known as microcredit.
He is the first and so far only Bangladeshi to win the prestigious award. The award also marked a shift away from the conventions by awarding it to someone who worked to promote peace indirectly through economic upliftment of the masses.
The 65-year-old economist said he would use part of his share of the $1.4 million award to create a company to make low-cost, high-nutrition food for the poor. The rest would go toward setting up an eye hospital for the poor in Bangladesh, he said. The food company, to be known as Social Business Enterprise, will sell food for a nominal price.
His Nobel lecture is available in text and video formats here: Nobelprize.org.
For those of you who are interested, you can also buy the book: "Banker to the Poor: Micro-Lending and the Battle Against World Poverty" by Muhammad Yunus.