Paulo Coelho Free Online Event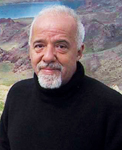 An interesting free online event for all Paulo Coelho fans…
At 3 PM ET (7 PM GMT) on Wednesday, October 11th, Paulo Coelho will be discussing his books and answering readers' questions online.
To participate in this free event, readers will need to register and login at 3 PM ET (7 PM GMT) on October 11th. Here's the event's registration page.
Throughout this web event readers can submit questions to Paulo and hear his responses. The questions will be posed to Paulo by a moderator — Beliefnet Spirituality Editor Valerie Reiss.
While Paulo is talking, participants can view a slide presentation about him and his books and submit questions via the event interface.
For more details about Paulo Coelho and his work: Paulo Coelho's official website, HarperCollins.
Beliefnet's feature on Paulo Coelho can be read here.