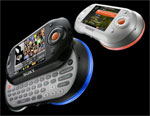 Sony has gone along and unveiled a new handheld gadget called "Mylo", which stands for "My Life Online", that combines instant messaging, Web browsing, e-mailing, VoIP capabilities via Skype, music playing and photo viewing.
It features a slide-up 2.4-inch screen, 1GB flash, and a Memory Stick slot.
The device looks a bit like the PSP (PlayStation Portable), but less slick and slightly uglier, still better looking than some other gadgets out there.
The Mylo is aimed at the younger generation who spend a lot of their time on internet chat rooms or instant messaging their friends.
A drawback of the device is its reliance on wireless technology, there being no mobile phone service or plug-in connection options open, rendering it pretty useless in countries that are short on free wireless coverage.
Anyway talking of Sony devices, I have a friend who wants to sell his Special Edition Silver PlayStation 2, used but in good condition, modified to play burnt games, one controller, along with 35 games. The price: 280 Tunisian Dinars.
If you're interested, send me an email and I'll get you in contact with the guy.