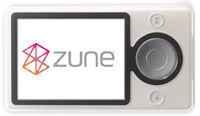 After many rumours and leaked information and photos, Microsoft has finally confirmed the existence of Zune, its planned media player and iPod killer.
Under the Zune brand, Microsoft will be delivering a family of hardware and software products, the first of which, the media player, will be available this year. Pyxis is the codename for their iPod nano competitor which would also include video capabilities; Alexandria is the codename for the software that powers the Zune experience.
The device will have hard drive-based storage and integrated WiFi. The WiFi will be used for community-based music sharing/streaming, as well as internet access, which will give Zune players the ability to access Microsoft's online music store from anywhere.
Microsoft will also be allowing users to share their content with the XBOX 360, Windows Media Center based PCs and Windows Mobile-based mobile phones.
A Zune viral marketing site has been launched at: ComingZune.com, and a blog at: Zune Insider.
More: engadget.