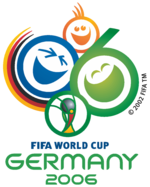 The World Cup came to an end last night, crowning the Italian team as champions of the world for the next 4 years, after their penalty shootout victory over France.
This is the fourth time Italy wins the title, making them second only to Brazil that got it 5 times up to now.
I didn't write much about the World Cup while it was going on, but I thought I'd give a little roundup of my impressions of this big event now that it's over.
Starting from last night's final match; personally I didn't want either team to win, but as it's impossible for both of them to lose, I was siding with the Italians, although I think the French played better.
It was a shame to see Zidane end his international career with such a stupid mistake that got him sent off with a red card. I don't know what was said to him that got him so mad, but he should know better than that.
Anyway, if it were up to me, I would have liked to see Germany win this cup. It's not that I'm a fan of Germany really, as I actually sort of root for a different team in every world cup. It's just that I felt Germany deserved it this year. And if not them, then maybe England.
I'd also like to go back to my country Tunisia's dissapointing performance at this World Cup. We had a good chance of going one step further this time and qualifying to the secound round, but we blew it.
The coach took some dumb decisions, the players made some stupid mistakes and we had to leave with only 1 point that we got from our draw with Saudi Arabia.
The teams who I thought gave great surprise performances at this world cup were: Australia, Togo, Trinidad & Tobago and Angola.
Brazil were a dissapointment for me and many people this time around, but hopefully they'll get their act together again for the next World Cup.
That's about all I have to say about this World Cup. Looking forward to the next one in South Africa in 2010, the first one to be held in our beloved continent.