In what can only be described as another act of war against Microsoft, Google is now beta testing a new online application called Google Spreadsheets.
And yes you guessed right, it'll be going head to head against Microsoft's Excel.
Google Spreadsheets will be able to do all the basic stuff you got used to doing with Excel in a simpler way through a familiar desktop-like interface.
Import and export of your spreadsheets is possible. And with your spreadsheets also being saved online, you can access and work on them from anywhere you wish.
Google Spreadsheets also adds a layer of web sharing and cooperation on top of what Excel can do, allowing you to invite the people you want to work on the spreadsheet with and edit it with them in real time.
It's still in limited beta, but the screenshots looks promising.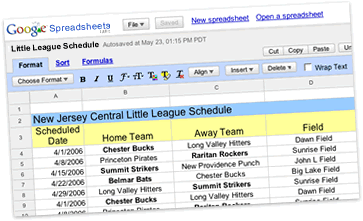 What should we expect next from Google? A presentation web application PowerPoint killer?