Microsoft Windows Vista Hardware Requirements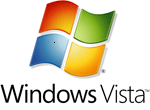 Microsoft has revealed the minimum requirements a PC will need to run its forthcoming Windows Vista operating system, and to be branded 'Vista Capable' and 'Vista Premium Ready'.
A 'Vista Capable' PC will require at least an 800MHz processor, 512MB of system memory, a DirectX 9 capable graphics card, a 40GB hard drive with at least 15GB of free space, a DVD drive, and audio and internet capabilities.
The only extra requirements for a 'Vista Premium Ready' PC are a 1GHz 32-bit (x86) or 64-bit (x64) processor, 1GB of Ram and a graphics card with 128MB of onboard memory capable of supporting Windows Aero2.
An Aero2 compatible card is a DirectX 9-class graphics processor that supports WDDM, Pixel Shader 2.0 in hardware, 32 bits per pixel, and with enough memory to support the desired screen resolution.
This comes as a surprise to a lot of people who have been talking about how Vista will need a bunch of new hardware, especially to companies like Intel and AMD who were counting on it to boost sales.
Basically people with a pc just a few years old might only need to change their graphics card and maybe throw in some more memory.
Still, I wonder why the hell this version of Windows needs 15GB of hard disk space? That's incredibly huge for an operating system.
I wonder if those one live cd operating system fanatics will be able to get anywhere near this one.
And why isn't there a version that is stripped down from the extra fancy graphical user interface, like with Windows XP? So that people can choose to upgrade their graphic card at their own time.
Update: "If you arent lucky enough to have a WDDM-capable video card, your experience with Windows Vista will be at least as good, if not better than, your experience with Windows XP." — Barb Bowman, Microsoft.
I stand corrected. Microsoft did think about people with older graphics cards. Thank you Swifty.
But then again, it wouldn't be Microsoft if it did that, would it now?