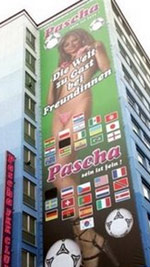 Pascha, a Cologne brothel touting for clients with a World Cup-themed banner, has blacked out the flags of Iran and Saudi Arabia after alleged threats from Muslims.
The giant banner on a high-rise building shows a semi-naked woman and the flags of the 32 countries in the World Cup, which kicks off in June.
The slogan on the ad reads: "The world is a guest of female friends" – a variant of the official World Cup slogan: "The world is a guest of friends".
The Tunisian flag – bearing the Muslim crescent symbol and a star marking the five pillars of Islam – remains on the ad, however.
It seems nobody takes us Tunisians seriously as Muslims, after all why should they if we ourselves don't take our religion seriously anymore?