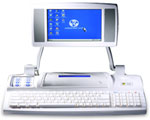 AsiaTotal is offering free computers called IT PCs to the developing world, with a catch: the machines' keyboards are lined with hotkeys that take their users to sponsors' retail websites.
It's a desktop design, and can only run on external power; it uses WindowsCE as its core operating system; it includes a variety of basic utility applications, but users cannot load new programs onto it; it has no hard drive, using instead smart cards to store user data, and a small 7″ flat screen; it has a modem for connecting to the Internet, and possibly an ethernet port (based on a photo on the site), but no wireless connection.
On their website they say: "It has been developed, designed and manufactured to be distributed free in order to enhance the lives of the millions of people in the world who – for economic reasons – are not connected to the Internet. A way to move them out of the digital underclass."
I think ideas like this one and the $100 laptops are great ones. But I'm not sure that the business model behind this project is such a good one, especially the way they're looking at it.
If this pc is aimed at people who, for economic reasons, are not connected to the internet, then those same economic reasons are most probably going to stand in the way of them buying anything online from those sponsors too.
Anyway, I guess we'll just wait and see how it goes.
[Via: BoingBoing, WorldChanging]