London Wins 2012 Olympics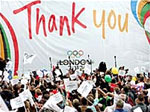 The 2012 Olympic Games will be held in London, the International Olympic Committee president Jacques Rogge has announced.
London won a two-way fight with Paris by 54 votes to 50 at the IOC meeting in Singapore, after bids from Moscow, New York and Madrid were eliminated.
Thousands of people in London's Trafalgar Square cheered as they watched the announcement on giant TV screens.
London has hosted the Olympics twice already, the last time in 1948. It becomes the first city to host the Olympics three times.