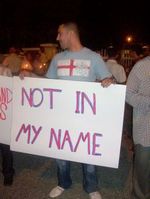 A candlelight vigil was held last night in front of the British Embassy in Bahrain to show solidarity with the British people, and to express complete rejection of the terror attacks in London.
It was attended by over a hundred people and was organized by a wide range of civil societies: Islamists, Leftists and human rights groups.
For more pictures check Chan'ad Bahraini's post.
I think this is great, and I wish more solidarity vigils like this could be organized across the Arab world to show our solidarity with the people of London and our total condemnation of these horrible acts of terrorism.
I join my voice with the Bahrainis in saying: "Not in my name!"