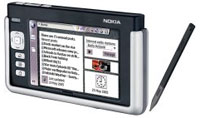 Nokia used the LinuxWorld Summit in New York this week to venture into new turf and launch a new product that is a step away from their core mobile phone business.
The Nokia 770 is a tablet PC for use in the home to browse the Internet and check e-mail primarily. Sporting an 800×480 screen with zoom facility, on-screen keyboard, WiFi connectivity and Bluetooth, the machine runs on the Linux operating system and Nokia's maemo development platform.
Other bells and whistles include an Internet radio, RSS reader, image viewer and media player.
This looks like quite a cool product.
It's a big risk for Nokia to move away from phones and all, but I respect that they had the guts to give it a shot.
I don't think I'd ever think of getting something like this for myself, unless I got everything else on my gadget list, but still I wish them luck with it.
[More: Linux Devices]