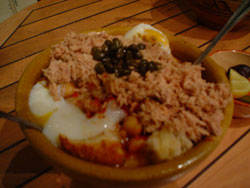 Tonight, we felt like going to Halfaouine in Les Berges du Lac for some yummy Lablabi.
Lablabi is a Tunisian fast food made up of bread crumbs, boiled chick peas, eggs, tuna, harissa (hot Tunisian chilli sauce), capers, cumin, olive oil and a little bit of garlic.
It's a weird mix, but it's great 🙂
If you ever visit Tunisia, make sure you try it out.
The photo should give you an idea of how it looks.
Yummy…