Tina Arena's Greatest Hits 1994-2004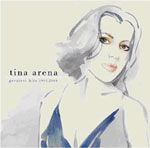 Tina Arena, my all time favourite female singer and the highest selling Australian female artist ever, will be releasing a Greatest Hits album on October 18th.
It's packed with all her hits throughout the past ten years, from "Chains" to "Sorrento Moon" to "Burn" to "If I Was A River" to "I Want To Spend My Lifetime Loving You" to "Symphony of Life".
It also includes two new songs: "Italian Love Song" and "Take Me Apart".
It actually will be a double cd with the second CD containing the songs she recorded in in French and Italian.
I also hear a Greatest Hits DVD is on the way with it, so that's so cool.
Anyone who calls themself a music fan should get this album as soon as it's out because Tina Arena simply rocks big time!
If anyone is interested in more Tina Arena news, you can always check out my Tina Arena website.