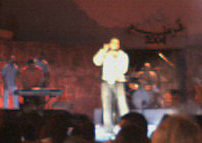 We just got back home after a wonderful night out.
We attended the Amr Diab concert in the Festival of Carthage.
It's been a long time ever since I went to a concert in the great Carthage amphitheatre, maybe ever since my childhood actually. And as for my wife, this is her first time there.
It's also the first time I attend an Amr Diab concert, my wife's second time.
And well, to say the truth, even though I love the guy's songs, I wasn't expecting much because of all the bad stuff I've heard about him performing live. According to what everyone says, I went in expecting some great songs but a really bad live voice.
And well, fortunately, my expectations were wrong.
The guy rocked live! Yes, he truly and absolutely rocked.
He truly out-did himself and I loved the songs even more than from the album.
The selection of songs for the concert was perfect, although I wish he would have just added "Awwedoony" to the list, one of my faves.
He sang, played the piano, played the keyboards, some percussion instruments and simply was great.
The climax of the concert came when he launched into his new single "Leeli Nhari". Everyone went mad, and it seemed everyone but my wife and I knew all the lyrics.
Amr Diab was the only Arab singer I used to listen to and buy albums for. His stuff is really good, he's an artist, and very professional.
And today after being at a concert of his, I'm more a fan than ever before.
I really enjoyed the concert a lot. It was so much fun.
After the concert, we were starving, so we thought we'd pass by this new place called Abu El Abed, a Lebanese fast food restaurant in Les Berges du Lac. We had some shawarmas which had this special middle eastern taste to them and which were really good.
After that, it was time for us to get home, and for me to get on here to write about it all 🙂